Whether you are looking to start a new business in the restaurant or grocery store industry, choosing the right commercial refrigerators may be challenging. As there are many types, it is important to know the difference between their purposes of them. Here is a quick guide on the different types of commercial refrigeration.
Types of Commercial Refrigerators
Reach-In refrigerators: They are exactly what they sound like, refrigerators you reach into. These are the width of arm's length. They are often located against the wall in kitchens and are a great way to quickly get a product. They usually come in single and double doors, but you can get a more luxurious triple door.
Merchandisers: These are often located in grocery stores and any place that sells refrigerated foods. The most common types are glass doors and open display. Glass Door merchandisers are the refrigerators that display the products behind a glass door. You usually see these when grabbing milk or sodas. An Open Display merchandiser is a type of refrigerator where you can easily reach in and grab the product. These are the ones where you grab deli sandwiches or other refrigerated snacks.
Chest Freezers: This type of freezer can be either located in the kitchen or on the sales floor. Like a reach-in refrigerator, this is a reach-in freezer. These freezers are typically used for ice cream merchandisers at convenience stores.
Undercounter Refrigerators: Undercounter refrigerators are located under counters and tables. They are a great space saver and are often in places where they can be accessed quickly. The under-counter refrigerators are typically exclusively used in kitchens. You can also find them under the front counter at fast-food restaurants.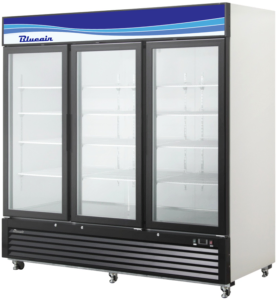 Prep Tables Refrigerators: These refrigerators are often seen at fast food or prep lines restaurants. Food is typically stored on the top as well as extra refrigeration space on the bottom. You can find these at sandwich shops or pizza parlors.
Display Refrigerators: These refrigerators are to display baked goods and sweets. These are very versatile when displaying food and can be adjusted as so. Typically, a pastry display case's temperature should read 33°F to 41°F. Meanwhile, sushi or fresh seafood should be at 30°-34°F.
Bar Refrigeration: Yes, bars require a different type of refrigerator. The more unique ones are the refrigerators that have a dual purpose, storing drinks and dispensing from a keg.
Walk-In Coolers: Walk-in coolers and freezers are the most expensive pieces of equipment that you own due to their size and the amount of product that you store in them.
If your business' services include serving or selling food, you will know that a reliable and cost-effective refrigeration system is an essential component of your business. For new businesses and those looking to replace old equipment, choosing the right new commercial refrigeration equipment must be done with proper consideration with your business's unique needs in mind. If you are not sure what refrigerator is right for you, give us a call. We are a proud vendor of commercial refrigeration products and can help you find a refrigerator that fits your business' needs. As trusted preferred commercial refrigeration vendors, We are always in the know about manufacturer warranties and rebates to get you the most value for your dollar.
Protecting your Commercial Refrigerators
Often for manufacture warranties, proof of regular maintenance is required. That is why we provide a Planned Maintenance Service program to our customers at competitive rates. These contracts involve our service team visiting your site and performing a thorough inspection of your equipment. If you're looking for the highest quality in commercial refrigeration service, look no further than R & R Refrigeration! Contact our team today.